CROSBY'S
Crosby's Family Cooking Molasses 675 g
675 G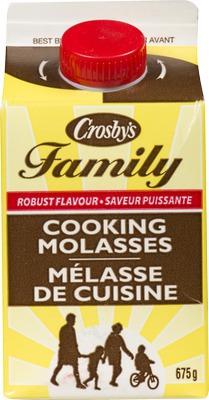 00056786000550
Nutrition Facts
Valeur nutritive
per 1 tablespoon (20 g)
par 1 c. à soupe (20 g)
---
% Daily Value* % valeur quotidienne*
*5% or less is a little, 15% or more is a lot *5% ou moins c'est peu, 15% ou plus c'est beacoup
Cooking Molasses

Ingredient Definition : Cooking Molasses

Country of Origin : Guatemala. Packaged in Canada.

About This Product

Excellent Source of Riboflavin

This product is 100% pure.

Certifications

Certified by the New England Rabbinical Council

Health & Safety

This product has a shelf life of 18 months.

Product Instructions

Find hundreds of molasses recipes at www.crosbys.com

Store at 10°C to 21°C (50°F to 70°F) under reasonably steady conditions of temperature & humidity.